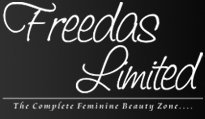 Tsim Sha Tsui Branch
5/Floor, Flat C, Comfort Building
86-88 Nathan Road
TST, Kowloon
Tel: (852) 3580 0447
Hong Kong Island Branch
2/F Warner Bldg, 91 Hennessy Road
Wanchai, Hong Kong
Tel: (852) 2527 7881
Hong Kong Island Branch
Mezz Floor, 124 Caine Road,
Hong Kong
Tel: (852) 3580 0405
Discovery Bay Branch
Flat 26, 5/Floor, Block D,
DB Plaza, Discovery Bay, NT
Tel: (852) 2987 4555
Tung Chung Branch
G/F, Shop 9A3, No. 12 Tung Chung Waterfront Road
Coastal Skyline, Tung Chung
Tel: (852) 3483 8356
Email:
freedashk@gmail.com
Appoinments by phone only

Freedas is always dedicated to value and service. Customers are our primary focus. Customer satisfaction is our ultimate goal and we strive to provide you with our best services at affordable prices.
Freedas, with our 3 popular locations offers you the best beauty treatments which emphasize your health and looks. We offer dedicated beauty services using only authentic products with an Asian and Indian influence.
Through dedication to our clients and commitment to quality, we offer the best services in our field. Our goal is to have satisfied and returning clientele