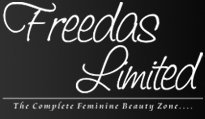 Tsim Sha Tsui Branch
5/Floor, Flat C, Comfort Building
86-88 Nathan Road
TST, Kowloon
Tel: (852) 3580 0447
Hong Kong Island Branch
2/F Warner Bldg, 91 Hennessy Road
Wanchai, Hong Kong
Tel: (852) 2527 7881
Hong Kong Island Branch
Mezz Floor, 124 Caine Road,
Hong Kong
Tel: (852) 3580 0405
Discovery Bay Branch
Flat 26, 5/Floor, Block D,
DB Plaza, Discovery Bay, NT
Tel: (852) 2987 4555
Tung Chung Branch
G/F, Shop 9A3, No. 12 Tung Chung Waterfront Road
Coastal Skyline, Tung Chung
Tel: (852) 3483 8356
Email:
freedashk@gmail.com
Appoinments by phone only


Threading is a unique art of hair removal, which originated in the Middle East/Asian countries centuries ago. Besides being a very quick and a precise technique it is very hygienic... It involves shaping and removal of unwanted eyebrow and other hair with a cotton string.

Some of the advantages of waxing are: